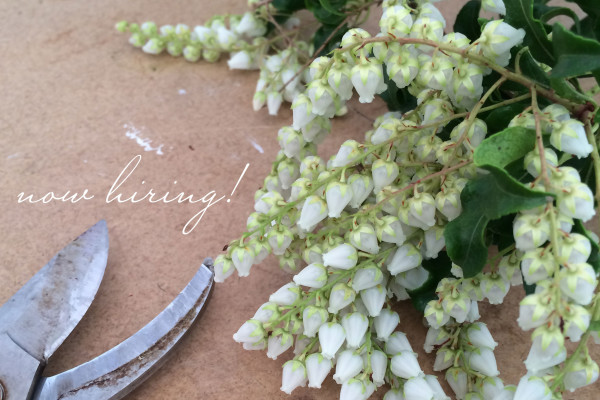 I am looking forward to my busiest summer yet this year! I'm finally faced with a realization–I can't do it all myself. That's where you come in. I am looking for a Floral Assistant to help me intake flowers, make arrangements, and deliver weddings on select weekends this summer. Maybe it's you or somebody you know? Here's my (probably too long) want ad:
Anastasia Floral Design LLC is a boutique custom floral design studio serving stylish weddings in Eugene, OR and the surrounding area. As the sole Eugene-area wedding professional listed in Style Me Pretty's Little Black Book vendor directory, I'm the only choice for discerning clients who prioritize having spectacular flowers for their events.

I'm seeking the right person to help deliver clients a beautiful floral experience and grow the business in leaps and bounds. The Floral Assistant position is part-time and temporary, and the successful candidate must be available for specific dates this summer. I am looking for somebody who is eager to learn and interested in working creatively as a career down the line.

I'm looking forward to hearing from you and I hope you're the one! Learn more below and at www.anastasiaehlers.com.

Cheers,
–anastasia

You should be able to…
…provide excellent service and work as part of a team to execute an event.
…accept direction and follow floral "recipes."
…lift heavy buckets & work on your feet.
…work on weekends.

You should have…
…knowledge of basic design principles—color relationships, negative space, focal hierarchy.
…enthusiasm for learning new skills and the willingness to make mistakes and problem solve along the way.
…interest in weddings, design, or related creative field as a career.
…a valid driver's license and reliable car.

At work, you will…
…prep fresh flowers for design.
…wash lots of buckets.
…design floral arrangements specific to weddings as instructed.
…assist in delivery and on-site set up and/or tear-down.

To apply, send (hello-at-anastasiaehlers-dot-com) a resume and a cover letter that answers one of the following prompts:
* Tell me about your creative talents.
* Florists are famous MacGyvers. Tell me about a time you had to think fast in order to fix something that didn't go exactly as planned.
* What would going above and beyond for a client mean to you?
So go forth! Tell your awesome friends to get paid to hang out with me and lug buckets around this summer.
P.S. Did you see I'm an LLC now? This little business has been registered as a sole proprietorship since 2010, but the imminent busy season, need to hire somebody, and me finally listening to the advice of my accountant friends added up to me making the switch. Here's hoping those same accountant friends don't smack me for doing it in the middle of the year…