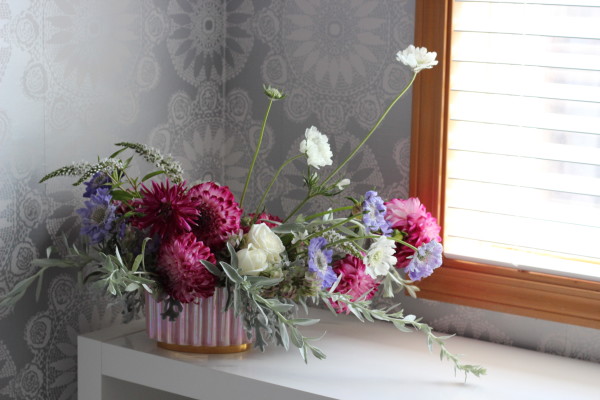 I made this yesterday with some leftovers from the weekend's weddings. Arrangements just for me are surprisingly rare, but putting this together was something of a meditation. I love love love these dahlias. The color was just a little too pink to use in my purple wedding, which was the perfect excuse for me to hoard them all to myself. This guy is all local: dahlias from Philomath, roses from Portland, and the rest (scabiosa, lysmachia, artemesia, oregano, and dusty miller) from right here in Eugene. I am so excited to be using more product from around here. With the occasional exception for carnations, baby's breath, or out of season ranunculus, I'm able to find everything I could hope for from the small farms I love. Better yet, it feels like I'm discovering new ones every day.
It feels like I have been moving a million miles a second, and that's actually pretty great. I just finished a triple wedding weekend–my first. Would not have even been remotely possible without the help of my fabulous new assistant, Maddie. All told, we made 25 centerpieces, 19 bouquets, 4 big altar sprays, 2 halos, a floral monogram, 20 chair bouquets, 5 wristlets, and a couple dozen boutonnieres. Oh…and 33 yards of baby's breath garland. I'll hopefully have some photos to share soon. I only snapped the bouquets from one of the weddings, but there will be lots to come from the others. If you're curious, there's a few happening on Instagram and Facebook.
I got a chance to catch my breath for a moment yesterday while I swept out the workspace and put together the arrangement, and now it's time to dive back into the next events. This week brings cafe au lait dahlias, blush hydrangeas, and blueberries all accented with gold and navy. After that, a Friday-Saturday pair of weddings in brights: orange, coral, pink, yellow, and green. Full speed ahead!